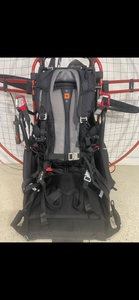 Wide adjustment range allows the harness to fit any pilot. Strap system offers safety and stability, yet leaves plenty of space for starting run, effective steering and full exercise of the glider's capabilities. Four ball-bearing pulleys considerably improve the speedsystem operation. The rescue chute V-strap tunnels run on both sides of the harness, so that strap can be led on either left or right side.
Harness certification: EN1651.
Powerseat Comfort Low is available in three versions as described in the table below. Shortly: no container, side container or underseat container.